Automatic High Speed UV Spot Varnishing Machine(Dual Functions, for both thick and thin paper)Half-way Grip Tooth Conveying
Product Detail
Product Tags
| | |
| --- | --- |
| STANDARD EQUIPMENTS | OPTIONAL EQUIPMENTS |
| Auto Feeder | Non-stop Feeding and Delivery Mechanism |
| Multifunctional Coating Unit | Pre-stack Car Device |
| UV Drying System | Ceramic Anilox Roller |
| Auto Delivery Unit |   |
| Auto Control |   |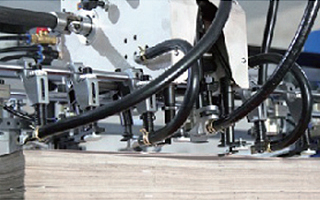 Feeder
Enlarged feeder with four sucking and six sending, and the spool adds a blower channel to send paper smoothly and easily.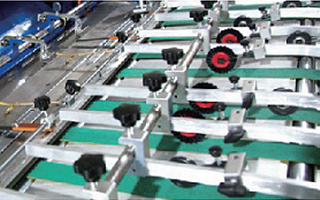 Front Side Lay Gauge
When sheet reaches front lay gauge, left and right pulling lay gauge can be chosen. The machine can stop feeding immediately by sensor once sheet missed or run out, meanwhile pressure released to keep bottom roller under no varnish condition.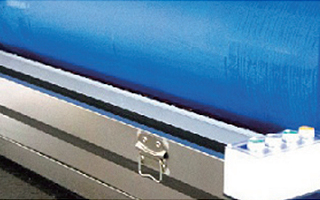 Varnish Supply
Steel roller and rubber roller with metering roller reversing and scraper structure control varnish consumption and volume to meet the demand of products and operate easily. (Varnish consumption and volume are determined by the line qty of ceramic anilox roller)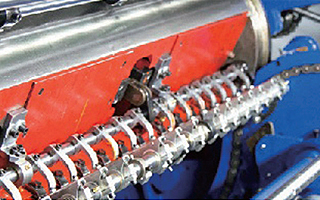 Transferring Unit
After sheet is transferred from pressure cylinder to gripper, paper can be supported by air blowing and smoothly reversed which can prevent sheet surface from being scratched.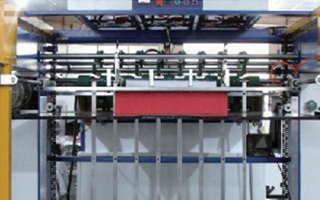 Sheet Delivery
Pneumatic control through the electric eye count automatic paper align, automatic drop, so that the delivery is very smooth. The rear gear is electronically controlled, allowing samples to be easily, quickly and safely taken out during product inspection.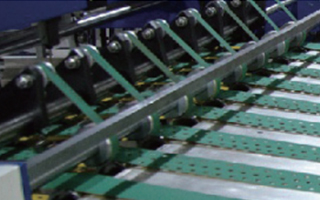 Conveying Unit
Upper and lower conveying belt can form
thin sheet to be curved for neat
and smooth delivery.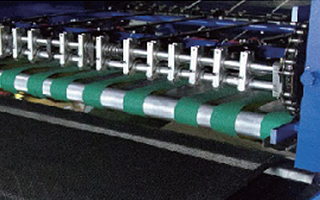 Sheet Putting
Sheet putting is achieved by cam and air blowing together to guarantee sheet is smoothly put on the conveying belt.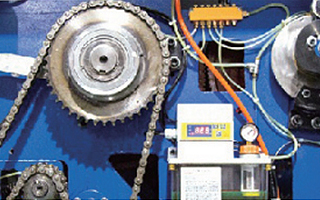 Auto Lubrication
The bearing sleeve uses automatic lubricating oil, the lubrication time can be adjusted and controlled so that to achieve the best lubrication.
| | | | | |
| --- | --- | --- | --- | --- |
| Model | XJU-1040 | XJU-1280 | XJU-1450 | XJU-1620 |
| Max. Sheet Size | 730*1040mm | 920*1280mm | 1100*1450mm | 1300*1620mm |
| Min. Sheet Size | 310*406mm | 310*406mm | 350*460mm | 500*460mm |
| Max. Coating Area | 720*1030mm | 910*1270mm | 1090*1440mm | 1290*1610mm |
| Sheet Thickness | 80~500gsm | 80~600gsm | 80~600gsm | 125~500gsm |
| Coating Accuracy | ±02.mm | ±0.2mm | ±0.2mm | ±0.2mm |
| Production Speed | 7200sheets/hour | 5200sheets/hour | 5000sheets/hour | 3000sheets/hour |
| Total Power | 42.8kw(oily)/44kw(water-based) | 51.5kw(oily) | 52kw(oily) | 53kw(oily) |
| Dimension(L*W*H) | 12800*3400*2300mm | 12800*3600*2360mm | 12800*3600*2300mm | 12840*3400*2360mm |
| Machine Weight | 8000kg | 9300kg | 10800kg | 12000kg |
---
Previous:
Fully Automatic High Speed Four-head UV Varnishing Machine(multifunctional type)Dyeing, Tactility, Matte Oiling
Next:
Automatic High Speed UV Spot Varnishing Machine(Dual Functions, for both thick and thin paper)All-way Grip Tooth Conveying
---